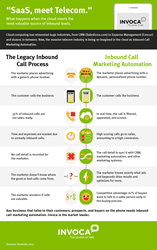 (PRWEB) March 24, 2014
Invoca, now the largest provider of cloud-based inbound call marketing technology, today announced it will be exhibiting at Booth #340 at the LeadsCon Las Vegas 2014 conference. LeadsCon showcases the best people and companies in vertical media and direct-response marketing. In addition, Anna Jefferis, Invocas Senior Channel Partnerships and Business Development Director, will be speaking at the Lead Buyers Summit-Insurance Track on March 24 and at the Mobile Acquisition: Leading Examples in Creation, Execution, Optimization and Closing the Deal panel on March 25.
With Invoca, advertisers and performance marketers can bring inbound phone calls into their digital marketing mix to open up new streams of revenue. Invoca integrates with the leading performance networks and affiliate tracking software to empower advertisers and marketers to drive high-converting inbound calls with the same attribution and control they get with their digital marketing programs. Driving inbound call traffic helps advertisers reach new audiences, effectively convert mobile users, and enables them to connect one-on-one with valuable, potential customers, giving them a greater opportunity to close sales, as well as make cross-sells and upsells. More than 3,000 marketers use Invoca s inbound call marketing software to generate better leads, higher conversion rates and more revenue.
To learn more about LeadsCon, visit http://leadscon.com.
About Invoca

Invoca is the industry-leading provider of enterprise inbound call marketing solutions. The cloud-based platform delivers complete campaign management, clear attribution, practical analytics and mobile optimization tools in one easy-to-use solution, while seamlessly integrating with the solutions marketers already use. Invoca helps businesses to get better-qualified, higher-converting customers and optimize spend across online, offline and mobile marketing channels.
Proven revenue-generating partnerships with leading Fortune 1000 and Inc 500 brands make Invoca the industry-leading solution for enterprise inbound call marketing. Invoca was founded in 2008 by a team of technology executives who built their prior startup into a multi-hundred million-dollar public company. Invoca is backed by leading venture capital firms Accel Partners, Upfront Ventures and Rincon Venture Partners. For more information, please visit http://www.invoca.com.