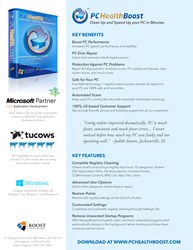 (PRWEB) September 27, 2013
Boost Software is pleased to announce the success of its first webinar, How to Make Real Affiliate Income With PC HealthBoost that was held Tuesday, September 17th. The webinar, featuring the company's two co-founders and one executive-level manager, was recorded and will soon be posted to the Boost Affiliates website.
Boost Software owners and Co-founders Peter Dunbar and Amit Mehta, together with VP of Business Development Brock Bourne, guided affiliates both old and new through various tactics and considerations that they have tested to sell their PC optimization software, PC Health Boost .
The webinar was directed at both new and experienced online marketers. For the new crowd, the webinar team covered the basics of how to set up a campaign and begin selling. For the more experienced crowd, the Boost Affiliates team spoke to the elements of the program that affiliates might not be accustomed to, such as company-sponsored guest blog posts and the allowance of direct linking.
The Boost Affiliates team also covered ground that was of interest to marketers of all levels of experience, such as page elements specific to the registry cleaner industry that they have found to improve conversions.
Those new to the online marketing world were also treated to a discussion of the mindset needed to succeed as an online entrepreneur.
Failure is okay, said CEO and Co-founder Amit Mehta. Every failure you have is just one more stepping stone to success. I failed 16 [big] times for half a year before I made any money online.
Mehta went on to explain that he made absolutely no profit during his first seven months as an affiliate. Then, during his eighth month, he made $ 2,000 in profit. He increased his online income to $ 10,000 in profit during his ninth month. After that, he quit his job.
Consistency is the biggest key to your success as an affiliate, said Mehta. I had to go through a lot of trial and error before I found out what works. My goal now is to teach Boost Affiliates members what works, so that they don't take nearly as long.
Towards that end, Mehta and Boost Software Co-founder Peter Dunbar spent nearly three years honing the PC HealthBoost campaign while live in the market. Both being believers in

consistent split testing, the two product owners tested not only ads and landing pages, but every graphic, screenshot, banner ad, and even the shopping cart and other elements of the sales process.
The Boost Affiliates website supplies the best of these text and banner advertisements, site graphics, and screenshots in its member section. The reasoning is simple: The easier Boost Software makes it for a software affiliate to sell PC HealthBoost, the better off everyone is.
Dunbar and Mehta co-founded Boost Software in 2009. They built the company's flagship product, PC Health Boost after becoming frustrated with similar (but lower-quality) offers in the market. They recently added the software to the ClickBank network, where it became the site's most popular registry cleaner (and 3rd most popular software overall) in less than 2 weeks.
The company's affiliate program is free for all to join at BoostAffiliates.com. Their next training webinar will be emailed out to members soon and announced on the Boost Affiliates Facebook page. You may contact the Lead Affiliate Manager, Pete Futchko at pfutchko(at)boostsoftware(dot)com for additional information.