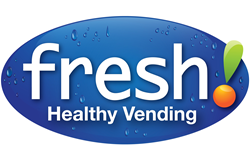 San Diego, CA (PRWEB) March 24, 2014
Fresh Healthy Vending International, Inc. (OTC Markets: VEND), North America's leading healthy vending franchisor, exhibited its healthy vending brand, products and services during the 69th Association for Supervision and Curriculum Development (ASCD) Conference, in Los Angeles, March 15th 17th.
As the deadline approaches for schools to comply with new snack laws taking effect July 1st, representatives from Fresh Healthy Vending attended the conference to showcase the company as a solution for schools looking to incorporate healthy snack vending into their campuses. Exhibiting at the conference is part of a larger campaign by Fresh Healthy Vending to promote its healthy vending program nationwide.
ACSD is an international educational community consisting of more than 170,000 members and 56 affiliate organizations. The organization is dedicated to providing tools for excellence in learning, teaching and leading for superintendents, principals, teachers and advocates from more than 138 countries. The ASCD Los Angeles Conference brought together over 6,000 school educators and administrators from every level of education to increase their knowledge of best practices and professional development in the education space.
As the only food vendor at the conference, Fresh Healthy Vendings Chief Community Wellness Advocate Nancy Segal and Locations Director Jessica Labombarde were given the opportunity to connect with school officials and present the opportunity of adopting healthy vending with machines on their campuses.
Its incredible how many school administrators were at the LA Conference, eager and interested to hear about the positive changes that Fresh Healthy Vending is providing to schools nationwide, said Segal. We talked with more than 300 schools principals, superintendents, teachers and parents, and no matter what their role or the education level of their school, the feedback we received was consistent across the board: healthy options in schools are vital to the overall well-being of students and need to be made more readily available per the recently introduced USDA mandates. Its wonderful to see the strong impact were having as a company in the education sector.
"Our goal was to gain exposure among the ASCD attendees, being that schools are at the forefront of our initiatives for placing Fresh Healthy Vending machines, said Labombarde. In addition to succeeding with that, we garnered a great amount of interest from hundreds of decisions makers in hundreds of schools across the nation. We will absolutely be attending future ASCD conferences and look forward to the abundant opportunities that lie ahead with this organization.
For more information on Fresh Healthy Vending, the franchise program, or to receive a free healthy vending machine in your school or business, visit http://www.freshvending.com or call toll free 888-902-7558.
About Fresh Healthy Vending
Fresh Healthy Vending, based in San Diego, California, is North Americas leading healthy vending franchisor. Fresh Healthy Vending pioneered the concept of vending machines stocked with tried-and-tested fresh, healthy snack options and capitalizes on a growing market of health conscious consumers. The company has appointed more than 215 franchisees throughout the United States, Canada, Puerto Rico and the Bahamas and is looking to partner with like-minded entrepreneurs who share its vision.
The company offers three different machines: The Healthy Vending Combo snack and drink machine, Healthy Vending Caf