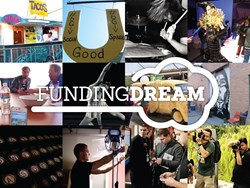 (PRWEB) September 04, 2013
FundingDream, an all-or-nothing crowdsourcing platform aimed at promoting socially conscious projects, businesses and charities in China, is announcing the impending launch of its platform, slated for December 3, 2013, coinciding with Giving Tuesday.
The FundingDream model resembles the USA-based, highly successful KickStarter platform, in which campaigns are funded and contributors charged only if they meet monetary goals that are predetermined by project creators. If a project is successfully funded, FundingDream collects a 10% fee on all raised funds, while the remainder of pledged funds are funneled directly to the project itself.
"In the United States, Kickstarter has launched more than 100,000 projects and raised $ 769 million since 2009," says Joshua Johnson, Co-Founder and CTO of FundingDream. "In China, 1.4 billion people stand as an open and untapped market for a platform like this to succeed. Were confident that by focusing on social change and user-generated ideas, we can bring a high level of interest to FundingDream and succeed where other platforms have fallen lacked."
Though not the first crowdsourcing initiative to reach the Chinese market, FundingDream will leverage high-level partnerships to reach out directly to socially active citizens, including an affiliation with Jiekuwang, a Chinese online shopping startup site with half a million active users. FundingDream competitors include DreamMore and Demo Hour, with Demo Hour achieving $ 500,000 in pledges on 150 projects in its first year, 2011, with significant growth since.
The Chinese market has been largely apprehensive to online donation projects, much in part to the concept of donating money being seen as a frivolous act. Income inequality and a social stigma surrounding charity have been concerns for FundingDream, however the company believes that a worldwide changing attitude towards crowdsourcing is coinciding positively with the launch of the platform. A Los Angeles firm, which analyzed data for 308 crowd-funding platforms worldwide, predicts crowdsourcing market revenue to double from $ 1.5 billion in 2011, to over $ 3 billion by the end of 2013.
"In recent times, donating money and funding startups have become more common and less controversial," says Johnson. "Were hoping that by giving people the opportunity to explore and learn more about projects taking shape around them, well bolster this positive new outlook on what it means to be a social contributor. We want to be the go-to site the Chinese government looks to in order to guide them to the future and help them legislate similar initiatives to the JOBS act in the U.S., to allow Chinese small businesses to grow from nothing with the help of their fan base and friends, by giving up equity instead of prizes."
FundingDream has already garnered widespread appeal, despite still being in the beta-testing phase of its launch. A recent article published on Mashable.com profiled the startup, while the public access beta has been received positively by critics around the web.
To learn more about FundingDream or to view the live beta platform, please visit http://fundingdream.com/.