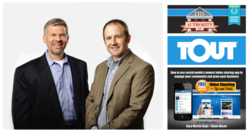 Atlanta, GA (PRWEB) November 07, 2012
Gary Martin Hays, Atlanta personal injury attorney and recognized safety advocate, and Adam Weart, branding and marketing expert, recently joined forces to co-write the book titled, "The Authority On Tout: How to Use Social Media's Newest Video Sharing App to Engage Your Community and Grow Your Business." The book was released by We Published That, L.L.C. – a publisher focused on helping authors brand themselves as The Authority On their areas of expertise.
"The Authority On Tout" was released on Monday, October 29th, 2012 and features insights on video marketing by taking advantage of Tout, the free and fast growing application that allows you to share 15 second videos with your entire social media network directly from your smart phone or computer. They also share with their readers tips on the best way to use the newest video sharing app to engage their community and grow their business. Inside the pages of the book, readers will also uncover tips and tricks on how to shoot professional video even if they are only using a smart phone.
Shortly after its release, "The Authority On Tout" reached best-seller status on several Amazon.com categories – reaching as high as #1 in the Direct Marketing category. The book also reached best-seller status in the Entrepreneurship category.
"The Authority On Tout" is currently on sale for 99 cents per download on the Amazon market but for a short time from November 19-23, 2012 will be available for free. After that promotion, the book will go back to being priced at $ 2.99.
We Published That, L.L.C. will release another book in late November/early December on the topic of child safety. All proceeds from the sale of that book will go directly to fund the mission of Lets Protect Our Kids, a project of Keep Georgia Safe.org, a 501