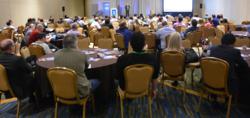 Chicago, IL (PRWEB) May 02, 2013
The agenda for eMetrics Summit Chicago (June 10-13, 2013) is live and positively awe-inspiring. Scaling the heights of this popular digital analytics summit will be keynote speakers from Hyatt, United Airlines and New York University.
Big brands mean big data decisions. In each eMetrics keynote, titans from major international companies will outline their initial challenge and share the valuable tools and tactics they used to optimize their digital marketing programs.