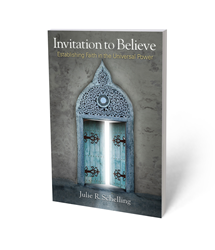 Narberth, PA (PRWEB) August 28, 2014
Julie R. Schelling, certified life coach, shares her life-long spiritual journey seeking the answers to the purpose of life in her debut as an author. Invitation to Believe: Establishing Faith in the Universal Power is a concise distillation of her experiences searching for a connection to a universal Power. While Schelling was undergoing a medical treatment for a chronic pain condition at a local hospital she had an extraordinary out-of-body experience that compelled her to write Invitation to Believe.
In the book, Schelling shares tales of her youth as she adopts various religious beliefs in search of the answers to her questions Why are we are here? and Who is God? but she leaves each one feeling dissatisfied with the answers. At age 16 she receives a book written by a holy man from Sri Lanka, at which point she is convinced he knows the answers to her questions and immediately becomes a student of his teachings. She explains how his presence and teachings impacted her life. She studied with him for 10 years both in Philadelphia and in Sri Lanka until he passed away.
Invitation to Believe includes her experience with a car accident, which resulted in multiple injuries, and later development of a chronic pain condition. Schellings suffering began to challenge her faith in God. She shares details about her depression and loss of what she thought was faith. Schelling then emerges from this ordeal with the beginnings of real faith and offers a simple step-by-step guide to establishing faith in a universal Power. She invites the reader to call this Power by any name while emphasizing the importance of the Power itself. It is our birthright as humankind to search for the answers of why we are here," she said, "but if we dont look for the answers how are we supposed to find them?"
Invitation to Believe is published under Schellings business name Coaching for Resonance through Amazons CreateSpace. In addition to self-publishing, Schelling utilizes her marketing background to serve as her own publicist as well. She contacted writer and retired pediatric surgeon Bernie Siegel, M.D., and he responded by agreeing to review her book.
After reading Invitation to Believe: Establishing Faith in the Universal Power, Dr. Siegel wrote back a lengthy endorsement, including the following: Julie Schellings book, Invitation to Believe, offers everyone a guide book on your journey through life. It can help you to find faith and understand why. We are all divine creations and with Julies guidance you can find your inner divinity. Life is a school and we are all here to live and learn so start your education by reading this book. -Bernie Siegel, M.D., author of The Art of Healing and A Book of Miracles.
Schelling welcomed Dr. Siegels endorsement, and immediately took it as a positive affirmation that publishing Invitation to Believe was the correct thing to do. I hope my book will touch the hearts of those who are suffering and seeking spiritual connection to a higher power and provide them with the tools needed to establish real faith along with the guidance of how to utilize that faith in times of need, Schelling added.
The paperback book is on sale on Amazon.com and CreateSpace.com, and will be distributed through Barnes & Noble, Ingram, and other sales channels. Both the Kindle and EPUB versions will be available on various websites as well. For more information regarding the content of this press release please visit http://www.invitationtobelieve.com or http://www.facebook.com/invitationtobelieve or email info(at)invitationtobelieve(dot)com.