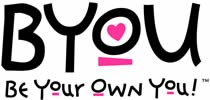 San Diego, CA (PRWEB) August 15, 2013
BYOU LLC announced today that it is holding a live presentation on Facebook to share its vision to empower women and girls worldwide.
BYOU believes that women of all ages deserve to live a life with healthy self-esteem and a positive self-image in order to live happier lives. Unfortunately, up to 90 percent of young girls today suffer from low self-esteem.
BYOU has successfully created an online community featuring an apparel line, a magazine, and an active blog where girls and women can get answers to their questions or voice their thoughts. In order to meet the needs of this growing market, the company is in the process of further expanding their team and looking for women who want to join their organization.
BYOU management believes everyone has had first-hand experience or know women that have experienced domestic abuse, suffered from low self-image or are abusing themselves in some way. This growing trend of extreme pressure is adversely affecting our next generation of young ladies.