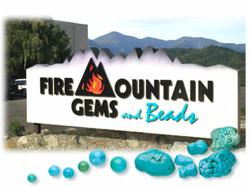 VANCOUVER, BRITISH COLUMBIA (PRWEB) July 11, 2013
Affiliate marketing is a fast growing industry, according to Forrester.com US affiliate marketing spending will thus reach $ 4 billion by 2014 and will increase at a compound annual growth rate (CAGR) of 16% from 2009 through 2014.* This means big opportunity for those looking to make a full time income online in affiliate marketing.
There are a multitude of profitable affiliate programs that are available across a vast amount of niches. Fortunately affiliate marketing is at an all-time high and new opportunities are available with increasing frequency.
An exciting new opportunity is a new affiliate program offered through Fire Mountain Gems, a US-based beading and jewelry supply company. Fire Mountain Gems first began selling beading and jewelry supplies in 1973. Over the years they have built great relationships with designers, artists, suppliers, and employees. They are extending the opportunity to build more great relationships through this new program, which is being introduced by All Inclusive Marketing.
The program officially launched on July 1, 2013 and has teamed up with ShareASale, a performance marketing network founded in year 2000, which offers connections to more than 2,500 online merchants that are plugged in to the network. While other networks require marketers to download some type of program, ShareASale allows affiliates marketers to keep an eye on their statistics in real time without use of software like Adware, toolbars, or other desktop-based software.
ShareASale constantly looks for ways to benefit both marketers and affiliates. One way that Sarah Bundy describes on her blog is Leap Frogging, a custom tracking method that credits affiliates differently according to different set rules which will significantly help with attribution.
Along with the benefits of being connected to the performance network ShareASale, some other key benefits of joining the Fire Mountain affiliate program include:
-Full access to marketing creative, including banners, widgets and video tutorials

-Advance notice of sales and promotions

-Earn commission on sales that occur within 30 days of the initial referral

-6% commission on all sales

-Dedicated affiliate manager who provides training, custom creative and personalized promotional opportunities.
"Fire Mountain Gems has a really deep inventory of beads and jewelry supplies, and we've built great relationships with designer-artists, suppliers and employees. We wanted to extend that same feeling of family to the legions of crafters and designers, and enable them to discover a new revenue stream through marketing our products." – Sarah Bundy
The founder and CEO of All Inclusive Marketing and instructor at The School of Internet Marketing, Sarah Bundy is an award-winning affiliate marketer with 12 years of sales and marketing experience. She contributes to affiliate marketing magazines and websites, volunteers on the board of the Online Marketing Institute, and takes every opportunity to improve the marketing industry through awareness, education, and training. That includes introducing new affiliate marketing programs such as the one from Fire Mountain Gems.
Learn more about the Fire Mountain Gems affiliate marketing program at: http://www.shareasale.com/shareasale.cfm?merchantID=47979&source=PR


About Fire Mountain Gems and Beads:
Known for exceptional customer service, Fire Mountain Gems and Beads, based in Grants Pass, Oregon , has been the one-stop shop for jewelry-making wholesalers, retailers and designer-artists for over 39 years. The diverse product selection offers more than 116,000 hot jewelry-making supplies. Online you can get your free copy of the 448-page, full-color Jewelry Maker's Catalog and browse E-Catalogs for the feel of the catalog with the ease of the web! Visit http://www.firemountaingems.com/ for more information.
About All Inclusive Marketing:
All Inclusive Marketing (AIM) is a full service digital marketing agency with offices in Vancouver, Chicago and soon to be London. They service clients from around the world including Canada, United States, Brazil, Europe, Caribbean, the Middle East and Asia. All Inclusive Marketings award winning team specializes in SEO, PPC, Big Data Analysis and Forecasting, Performance Marketing, Attribution Tracking, mCommerce, Email, Web Design, Video Optimization and Digital Strategy for Internet Retailers. Visit http://www.allinclusivemarketing.com for more information.
About The School of Internet Marketing
The School of Internet Marketing allows business owners to take control of their web presence in order to develop new leads and customers. The School works to empower business owners with the understanding that a little education can go a long way. It offers a variety of 100% web-based courses for small business owners wanting to learn how to market their business online for just $ 47 per month. Visit http://www.theschoolofinternetmarketing.com for more information.


Forrester, September 25, 2009, http://www.forrester.com/US+Affiliate+Marketing+Forecast+2009+To+2014/fulltext/-/E-RES54363
Contacts:

James Martell, VP Business Development

Clearbrook Web Services, Inc./ The School of Internet Marketing

Phone: (604) 535-6352

Email: james(at)theschoolofinternetmarketing(dot)com