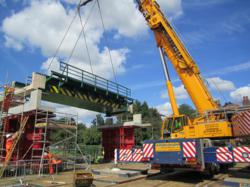 (PRWEB UK) 10 May 2013
The specialist event on June 26 and 27 2013, focuses on the best and latest lifting and access equipment and Timbermat, one of Britains largest suppliers of access solutions, will be exhibiting the only system on the market with tested and certified load calculations.
Timbermats Emtek ground protection mats are specially engineered and designed to support specified weights, offering extra safety for construction sites where health and safety is of the utmost importance.
The most frequent causes of death in the construction industry are falls from heights, followed by fatal accidents involving vehicles, including overturning vehicles. The use of Emtek mats on site provides heavy vehicles a stable surface to operate on, helping to prevent machines toppling over while operating on unstable or soft ground.
As well as Emtek mats, Timbermat will be exhibiting American oak timbermats that fully meet the new European Union Timber Regulations (EUTR) which were recently introduced to combat the placing of illegally produced wood products into the EU market. The American oak mats come in thicknesses of 70mm, 100mm and 150mm.
Timbermat will be one of the 100 plus companies, service suppliers, affiliated traders and training centres exhibiting at the Vertikal Days 2013 show from across the UK and Ireland. The show is rising in popularity, attracting 1,700 visitors last year (up by 13 per cent in 2011) and this years show, looks set to be just as promising.
We are proud to be taking part in the Vertikal Days show for the third time. The relaxed and informal nature of the event encourages networking between exhibitors and visitors and they have the opportunity to take a closer look at our ground protection solutions, said John Roberts, managing director of Timbermat.
Ends