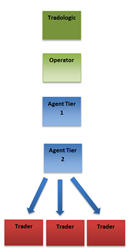 (PRWEB UK) 20 September 2013
TRADOLOGIC is a pioneer in the binary industry and knows that different markets demand different products. The company conducted a comprehensive research into the financial trading market in Asia and developed products that suit best this market. Such a product is the Agent System a unique system of affiliation that allows binary options operators in Asia to have affiliates. These are agents for the platform who work on geographical areas and real contact with the players. The agent system works in many tiers, effectively, as sub-agents. The main idea is to have a system that will work instead of the traditional affiliate management system.
The main features of Agent System include:

A closed system meaning that the initial allocation of the credit comes only from the operator and the only way a trader can withdraw his winnings is to request them from his agent.
The agents in the system are not permitted to trade, using their agent accounts. In order to be able to trade, they need to open a regular account on the website.
One agent can have both agents and traders on the next tier below.
The account currency of the each top tier agent determines the currency of the whole tree beneath him.
One of the main advantages is that there is no need for a credit card or debit card. The agents purpose is to give traders credit for trading on the platform and then pay out the winnings or settle the debts when the provided credit is lost. By giving credit to the members, the agents make it possible for their members to play anytime, even without having cash, and are often just a phone call away, should the members wish to continue playing.
TRADOLOGIC is able to offer an adequate management system that is necessary to run a successful agent-based system. This innovation by TRADOLOGIC, along with the other products offered by the company, gives operators the chance to develop a successful business.
About TRADOLOGIC:

TRADOLOGIC is the global leader in the financial trading industry with technology built specifically for the binary industry. The company constantly develops new and innovative products that meet the demands of the dynamic financial trading market. TRADOLOGICs team creates products and design services that meet the different wants and needs of the companys numerous partners around the world.