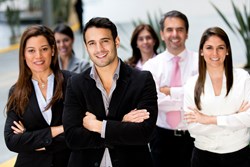 Bala Cynwyd, PA (PRWEB) October 08, 2013
Varsity Business Solutions affiliate partner program has helped business professionals like CPAs, Retirement Planners, Tax Attorneys, Commercial Real Estate Brokers, Insurance Salesmen, Distributers of office equipment, Loan Officers, Business Brokers and many other industry professionals realize thousands of dollars a month in addiontal revenue. Business professionals, through their daily relationships with business owners, are often asked how or where they can find capital. While they usually point them in the direction of their neighborhood bank, often times they are declined. Banks are stringent with their underwriting and almost 85% of small businesses that apply for a loan with a bank are declined. Business professionals with working relationships to business owners can help by working with Varsity Business Solutions and finding alternative means of securing capital. Alternative lenders throughout the country work hand in hand with smallbusinessfunding.com to present a solution and help business owners get financing that they can use for expansion, payroll, new hires, working capital, or anything else.
What Does the Affiliate Do To Facilitate This Process?
Affiliate partners can work with Varsity Business Solutions in one of two ways. One is to simply pass on the contact details of their client who is in need of capital and VBS will do all the leg work needed to find the best lender with the best terms for each type of applicant. The second is to handle collecting documentation, getting the application filled out, handling phone calls etc., from the beginning of this process through funding. Either method will have the same outcome. The business owner will get the capital they need and the affiliate partner will earn a commission paid by the lender. VBSs role, regardless of which type of method you choose to work, will be there to find the best lender for each particular situation. Knowing what the nuances and thresholds are of all the alternative lenders financing these loans is what VBS is known for and what they excel at. This helps the process be as efficient and fast as possible. Approval decisions take only 24 hours and funding in just seven days. These alternative finance lenders provide unsecured revenue based loans, merchant cash advances, factor funding, and asset based loans. The affiliate partner program at Varsity Business Solutions offers a much broader range of funding types allowing for substantially increased commissions for our affiliate partners, says President Michael Kevitch, making us the best alternative financing affiliate program in the country. While these types of loans are relatively hassle free as far as required documentation and fast, they are more expensive than traditional bank loans. The repayment terms are much shorter also ranging from 3 months to 24 months and are paid daily.
Joining Varsity Business Solutions Affiliate Partner Program
This is a very simple process. Simply visit http://www.smallbusinessfunding.com affiliate partner page. There is a simple short form to fill out. A marketing officer will contact immediately to discuss the program in detail and answer any questions you may have. This program is transparent and can earn thousands of dollars a month in residual income.
About The Company
Varsity Business Solutions LLC, dba smallbusinessfunding.com, is the nations leading service for business owners in need of capital who have been turned down by a bank. When a business owner has bad credit, has been in business for a short period of time, or has a necessity for fast capital (in less than seven days), VBS will find you the capital. Approval times in just 24 hours and funding in only days.
Find More Best Free Affiliate Marketing Program Press Releases